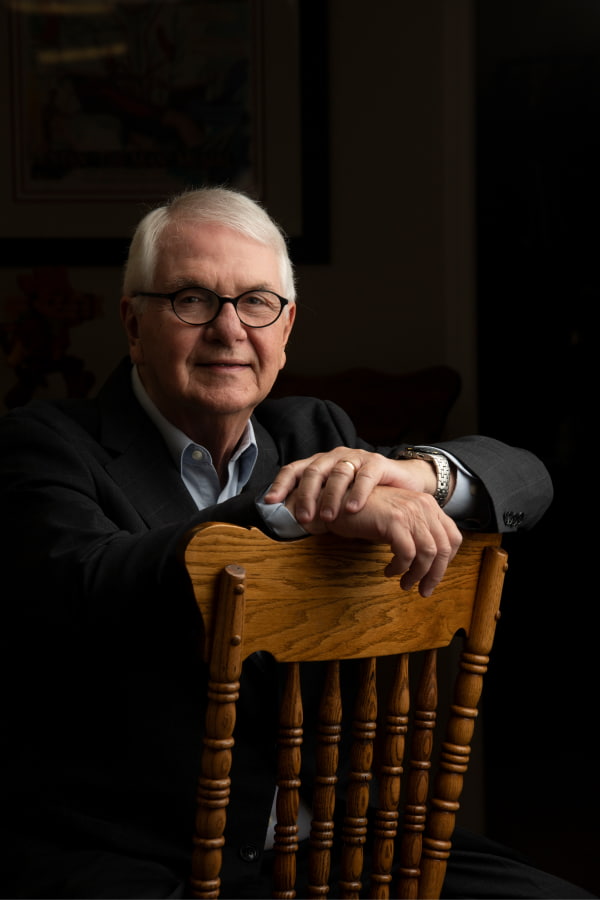 Electrical engineer, power guru, community leader
Tom Voss, EE'69, grew up stocking shelves in his father's grocery store in St. Louis, a job he continued to do on weekends when he was a student in Rolla.
"I was the first in my family to go to college," he says. "I didn't know much about engineering but I knew I loved math. When I learned that electrical engineering had the most math, I majored in it."
Voss joined Union Electric, later Ameren, after graduating and returned to the company following four years in the Air Force, where he worked on engineering projects including the gyroscope for the F-4 fighter plane.
Over the next four decades at Ameren, he learned the ropes of public utility life, from operations to customer service.
"By the time I became CEO, I had worked in every area of the company," says Voss, who put his crisis management skills to work in 1993 when a massive flood submerged a swath of the Midwest.
"It was 90 days of intensity," he says. "My wife saw me more on TV than she did at home."
Throughout his career, Voss brought an engineer's love of process to every position he held. He developed a reputation among power industry CEOs as the go-to guy on generation and transmission.
"I taught courses to executives on how the whole system works," he says. "When I served on the EEI (Edison Electric Institute) executive committee, most of the other CEOs were trained as accountants or lawyers. I was the engineer in the bunch."
Voss says his greatest career challenge was learning to be a CEO.
"You really don't know what the job is when you start," he says. "Then you realize it's about more than decision-making because capable people are already making decisions. I ended up focusing on safety and diversity. I believed diversity would make us a better company and I knew we had to improve our safety record."
"Whatever major you choose, once you go into the field, it's what you keep learning that's important, not what you already know."
Under Voss's leadership, Ameren went from more than 200 work accidents a year down to 20. He also led initiatives to increase the number of women and minority engineers at Ameren. The company continues to recognize employees annually with the Thomas R. Voss Diversity Award.
Voss was about to retire in 2014 when California-based startup Smart Wires approached him about consulting. For the past six years, he has served as chairman of the company, which developed and markets groundbreaking technology used to control power grid flow.
Throughout his career in a 24/7 industry, Voss has always made time to give back. He and his wife, Carol, have chaired fundraising campaigns for many causes including AIDS, Alzheimer's disease and cancer research, homelessness, early childhood development, and education and the arts.
"Carol and I are strong supporters of many organizations dedicated to making the world better," says Voss, who chairs the S&T Board of Trustees and previously served on the University of Missouri Board of Curators. Voss received an honorary doctorate in 2018. He and Carol received the Lifetime Achievement Award from the National Conference for Community and Justice of Metropolitan St. Louis in 2020 for their commitment to building a community culture of inclusion and understanding.
If Voss were to offer advice to today's college students, he would emphasize that learning never ends.
"Whatever major you choose, once you go into the field, it's what you keep learning that's important, not what you already know."