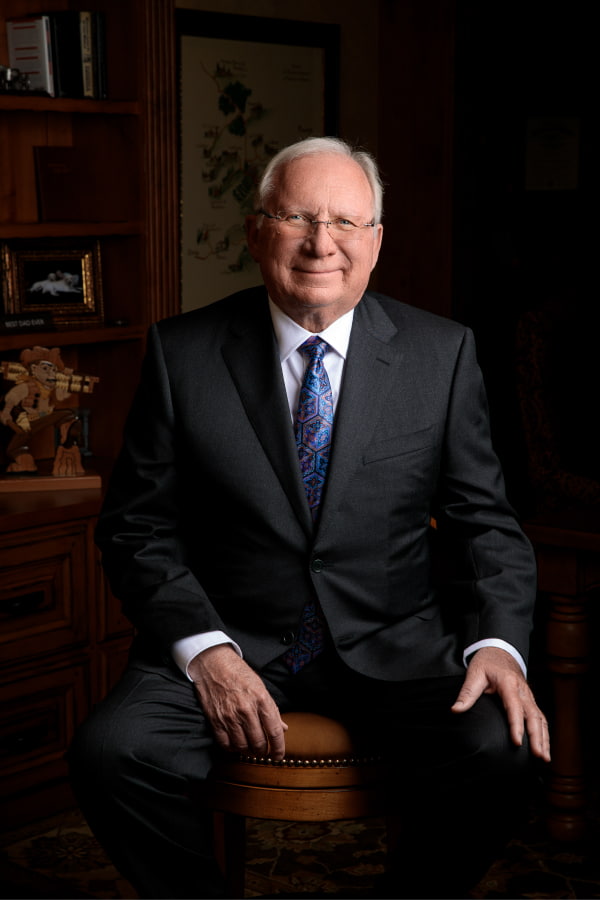 Petroleum engineer, oilman, entrepreneur
Steve Rector, PetE'72, MS PetE'73, remembers the summer jobs he had as an undergraduate in Rolla.
"I had never been farther from home than my grandmother's house in Kansas," says the Lebanon, Mo., native, who worked for Standard Oil in southern California, Mobil in western Oklahoma and Texaco in New Orleans.
"My parents owned a greenhouse and nursery, so growing up I worked before school, after school and weekends — mostly at the end of a shovel," says Rector, who excelled in math and science in high school. When it was time to apply to college, he considered only Rolla, where his brother was majoring in civil engineering.
"I asked my brother what department had the most money for scholarships," remembers Rector. "He said 'that's easy, petroleum engineering.' I didn't know a thing about it but I knew I needed a scholarship."
Rector says those summer jobs instilled in him a passion for the industry.
"I worked as a roustabout on an Oklahoma oil field in 1970," he says. "The crew gave me a set of wrenches and nicknamed me Schoolboy. Pretty soon I was one of the gang."
After completing a master's degree in petroleum engineering, Rector joined Shell Oil, where he launched his career evaluating oil wells in Utah, New Mexico and Montana. Then, as a reservoir engineer, he used water flooding recovery methods to revitalize fields in the Rockies and Alaska.
"From a career perspective, it was a great time to be in the oil and gas business," says Rector, who then led planning and implementation of a carbon dioxide injection operation in West Texas. "We had a geological engineer, reservoir engineer and production engineers on the project. This team approach wasn't as prevalent back then and it taught me management skills."
"The scholarships I held meant everything to me ... It was an easy decision to provide opportunity for future generations. I advise students to prepare themselves for ups and downs. Petroleum engineering is a good career but it's not for the faint of heart."
Rector joined Petro-Lewis in 1981 as an engineering manager and later became vice president of its Gulf Coast region.
"I learned the business side of the industry," he says. "I had accountants, landmen and engineers working for me."
Following the collapse of oil prices in 1986 and the industry fallout that followed, Petro-Lewis was acquired by Freeport-McMoran and Rector went into business for himself.
"I bought some oil and gas properties I knew really well and started S&S Energy, a small regional company that's still around today," says Rector, who co-founded RIM Operating in 1991 and went on to acquire oil and gas properties in Montana, Wyoming, Utah, Arizona, Colorado and Texas.
"Our footprint went where the opportunities were," says Rector, who has weathered the volatility of the industry. "I've been through many booms and busts, from 1986 and 2008 to 2020." Rector also used his strategic skills as chair of the Miner Alumni Association's finance committee during the planning and building of Hasselmann Alumni House.
Rector and his wife, Susan, established a scholarship endowment in 2007 that supports 30 to 40 students in petroleum and geological engineering every year. When on campus for alumni association meetings, Rector has met with his scholarship students.
"The scholarships I held meant everything to me," says Rector, a member of the S&T Board of Trustees. "It was an easy decision to provide opportunity for future generations. I advise students to prepare themselves for ups and downs. Petroleum engineering is a good career but it's not for the faint of heart."