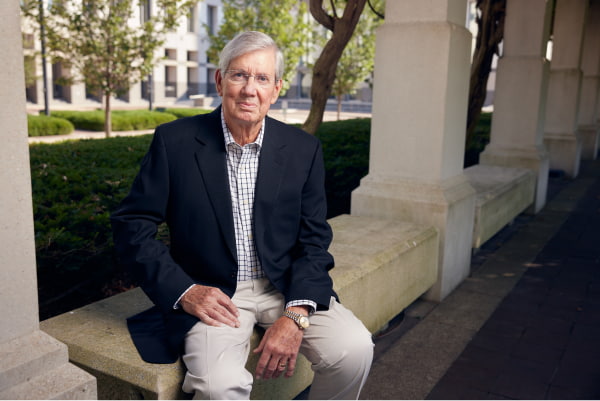 Company man, global executive, grateful graduate
When Ron Miller, ChE'64, graduated from Rolla, he had six job offers. He chose the one with a strong management path — Procter & Gamble.
Over the next three decades, in a career that took him to manufacturing plants worldwide, he says his greatest challenge involved the most basic of baby necessities … diapers.
"It was a time of product design change with the shift from rectangular to shaped diapers," says Miller, who was division manager overseeing the company's diaper manufacturing plants. "We were behind the curve and had to catch up. We converted 80 manufacturing lines around the world in 18 months at a cost of about $1 million for each conversion."
Growing up in western Kentucky, Miller thought he would major in the subject he loved most — chemistry. But an aunt convinced him that chemical engineering was the way to go. After two years at Murray State University, Miller transferred to Rolla and moved into the Pi Kappa Alpha fraternity house as a transfer member. His fiancé, Janice, stayed at Murray State to finish her elementary education degree.
"We were poor but happy," says Miller, who remembers collecting soda bottles for the refund money until they had enough to buy hamburgers at Ramey's, a popular student hangout. After Miller accepted the job with Procter & Gamble, he and Janice celebrated by buying their first new car, a red 1964 Skylark. They moved to St. Louis, and Miller began his career as a shift supervisor at a plant that manufactured Tide and other cleaning products.
Over the next 35 years, Miller oversaw the production of many billion-dollar Procter & Gamble brands. The achievement he is proudest of is the turnaround of a plant in Cape Girardeau, Mo.
"The plant was underperforming," says Miller, who began his tenure as plant manager by meeting with each of his 1,200 employees. "Pretty soon you gain some credibility but it takes time to change. We turned things around by creating a leadership culture that involved everyone."
"Rolla graduates are blessed with very good jobs ... Giving back is a way to come full circle."
After the plant's successful turnaround, Miller became a division manager at the company's headquarters in Cincinnati. That led to an assignment in Brussels as the manufacturing head of laundry products for Europe, North Africa and the Middle East, followed by responsibility for laundry products manufacturing worldwide. Miller retired in 2000 as general manager and vice president to begin a phase of life that wasn't spent on airplanes.
He refers to this phase as giving back. He and Janice tutor at-risk students, volunteer for many nonprofit organizations and serve on community boards. They also established the Ron and Janice Miller Scholarship for Academic Access, an endowment supporting Pi Kappa Alpha scholarships.
Miller is a past president of the Missouri S&T Board of Trustees. During his 2006 commencement address, when he received an honorary doctorate, he encouraged graduates to live a balanced life, maintain integrity, deliver beyond expectations and give back.
"Rolla graduates are blessed with very good jobs," says Miller, remembering his own path from rural Kentucky to executive leadership with one of the world's largest multinational companies. "Giving back is a way to come full circle."