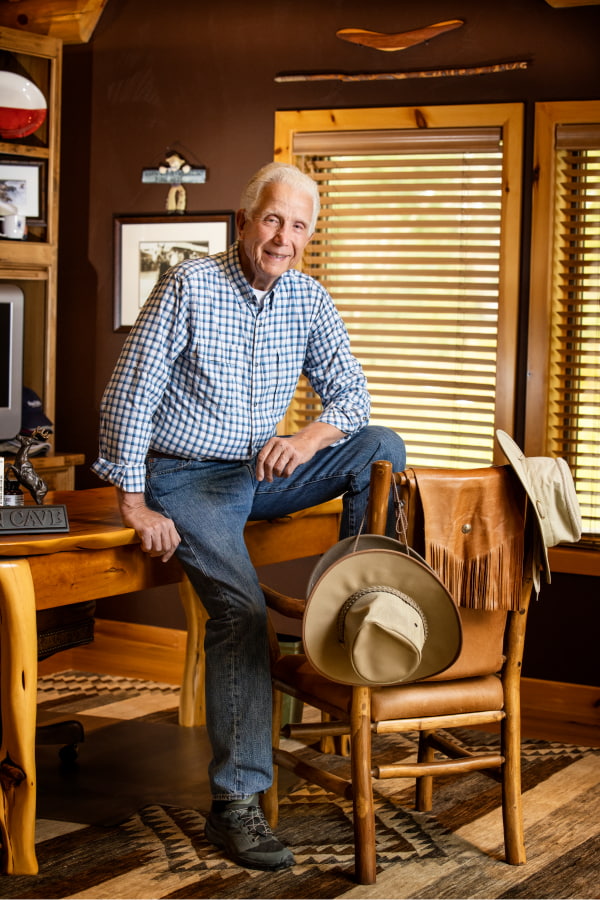 Engineer, entrepreneur, real estate developer
Ray Betz, CE'66, describes himself as someone who believes in the American dream. And he credits his parents with laying the foundation for his success.
"They taught me to work hard and always do the right thing," he says.
Betz grew up in St. Louis in a four-room flat heated by an oil stove and spent his summers operating forklifts and degreasing machines.
"My uncles got me jobs in factories," says Betz, who also spent a summer with a slide rule calculating water flow volumes for the Metropolitan St. Louis Sewer District. "I was raised by wonderful German-American parents with eighth-grade educations who wanted more for their children."
For Betz, that meant coming to Rolla.
"I knew I needed a degree so I could make something of myself," says the student who spent his downtime between classes in the library. "This was key to keeping up with my workload and graduating in four years."
Betz made time to serve in leadership roles for Theta Xi fraternity, compete on the ROTC Pershing Rifle Drill Team and participate in intramural sports. By his junior year, he knew he wanted to enrich his civil engineering background with a business degree. He chose Purdue University's master's program in industrial administration, graduated with 13 job offers and went to work for Deloitte's management consultancy.
"It wasn't the job with the highest salary, but it offered the broadest exposure to business," says Betz, who took leave to complete his Army service as a lieutenant at Fort Belvoir and in Vietnam. Upon returning to Deloitte, he relocated to Houston "because of the tremendous growth potential."
Five years later, Betz gathered a small group of investors, bought a few tracts of land and went into business for himself in 1976. He also traded in his 1960 Chevy II for a new car.
"I had to look a little more successful," he says.
Betz has been developing commercial real estate ever since, riding booms, weathering downturns and making the most of both.
"When the real estate recession hit in the late '80s and early '90s, I began to see a new opportunity with RTC and FDIC liquidations," says Betz, who bought land for 10–20 cents on the dollar and waited for the market to come back.
"I value what the university has meant to me and the foundation my education provided."
"With patience, that worked out quite well."
The Betz Companies grew, built a headquarters, and expanded into industrial, retail, medical, storage, hotel, and residential real estate in Houston, Austin and San Antonio. Along the way, a number of employees Betz hired and mentored launched their own companies.
"I'm very proud of the fact that many people who worked for me went on to become successful entrepreneurs," says Betz, who also takes pride in his company's reputation for maintaining strong relationships, in good times and bad.
"I had some semi-unfriendly discussions with bankers after the financial collapse in 2008," he says. "But we are a well-respected company and that has meant a lot. I've been blessed with a loyal investor base that has been with me for decades."
Nearly half a century after his first acquisition, Betz is still making deals and giving back to the philanthropic causes he supports with his wife, Susan. A Missouri S&T trustee emeritus, member of the Academy of Civil Engineers, and donor to many university initiatives, he also encourages out-of-state students through the Raymond and Susan Betz Endowed Scholarship.
"I value what the university has meant to me and the foundation my education provided," says Betz. "The discipline and problem-solving approaches you learn in engineering courses will serve you well in any career. Add an entrepreneurial mindset and the doors are wide open."