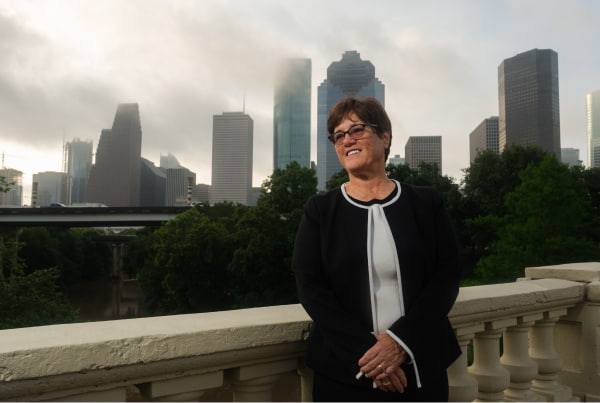 Chemical engineer, energy executive, leader across borders
Peggy Montana, ChE'76, was a Rolla undergraduate when federal Title IX legislation opened the door to intercollegiate athletic competition for female students. Her junior year, she was in the inaugural group of women to compete as Miner athletes.
"I played on Rolla's first intercollegiate volleyball team, even though I am only a few inches over five feet," says Montana, who remembers seeing her first biscuits and gravy on a team trip when they stopped for breakfast at a rural diner. "All I could think was 'what in the world is that?'"
Born in Massachusetts, Montana, along with her five siblings, moved often with their father's work in petrochemical plant construction.
In Rolla as a resident assistant in McAnerney Hall, Montana remembers the first year the women's dorm achieved 100% occupancy — a milestone on a campus where men outnumbered women 10 to 1.
By taking summer classes, she graduated in three and a half years and joined Shell Oil Co. as a production engineer at the company's Deer Park Refinery in Houston. Her future husband and fellow Miner, Duane Montana, CE'75, was already in Houston working as a civil engineer.
Over the next two decades, Montana advanced from refinery production into management.
In 2001 she moved to Singapore as general manager of Shell's distribution operation in Asia and the Middle East.
"Most of my work was in Pakistan, Malaysia and the Philippines," says Montana, who faced the formidable task of turning around a division with the company's worst safety record. "Fuel truck drivers didn't have the right training or vehicles, and many countries had no safety regulations. We overhauled how we contracted with drivers and initiated audits. We improved our safety record to zero fatalities and became the leader, even helping countries implement industry regulations."
"If you want to be at the forefront of the two biggest challenges the next generation will face — the rapid growth of developing countries and climate change — go to work in the energy industry."
Montana returned to the United States in 2004 to oversee Shell's fuel terminals and transport as vice president of global distribution. In 2014 as CEO of Shell Midstream Partners, she led the initial public offering of the first midstream assets spinoff for an international oil company.
"It was different from anything else in my career," says Montana, who spent a year forming the company and then pitching it to potential investors. "We might see four investment firms in a day on our roadshow. In the end, we raised a billion dollars."
Montana pounded the closing gavel at the New York Stock Exchange in October 2014 and retired the following June. With Duane and her sister, Andrea Cahill, she established the Montana Cahill Foundation, which awarded a $500,000 challenge grant to S&T's chapter of Engineers Without Borders in 2017, launching a campaign that raised $1 million.
"EWB was a good fit with our foundation's focus on breaking the cycle of poverty," says Montana, a member of the S&T Board of Trustees and Academy of Chemical Engineers. "Students use their engineering skills to make a difference in rural communities while gaining hands-on experience and cultural immersion."
Although biochemical engineering has emerged as a growth focus for the department, Montana encourages students not to ignore energy.
"If you want to be at the forefront of the two biggest challenges the next generation will face — the rapid growth of developing countries and climate change — go to work in the energy industry."