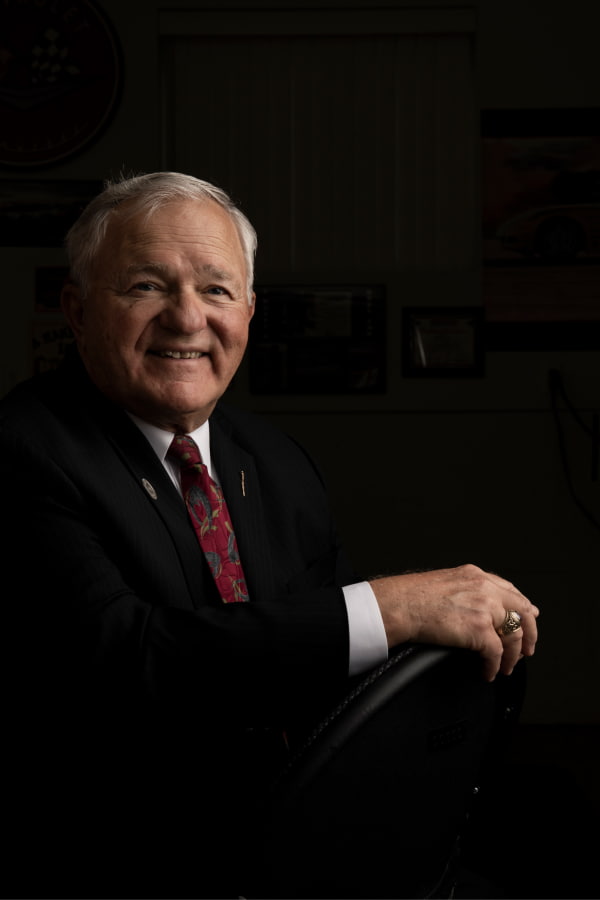 Mechanical engineer, manufacturing leader, champion of experiential learning
Early in his career, Mike Bytnar, ME'68, MS EMgt'73, worked in the machine shop at the Nooter Corp., where fabricating massive pressure vessels for chemical plants taught him metallurgy — and figuring out how to deliver them taught him logistics. Bytnar remembers a Boeing contract for a NASA and Department of Energy wind turbine project on Oahu. Creating the turbine's 200-foot steel column — the world's largest at the time — was one thing, but delivering it was another.
"Transporting it from St. Louis to Seattle was a challenge," says Bytnar, whose team customized a trailer for the turbine's trip to the West Coast, where it boarded a barge for Hawaii.
After fabricating two 100-ton vessels for a global chemical company, Nooter needed to transport them to England and Taiwan.
"We chartered the Antonov-124," says Bytnar, referring to a Russian super-cargo plane big enough to haul a dump truck or locomotive. "Things were never dull."
In a career with Nooter spanning 40 years, Bytnar held positions from foreman to president. The St. Louis native began his education by almost flunking out of junior college.
"I became a great bridge player and a terrible student," says Bytnar, whose girlfriend and future wife, Joyce, told him she wasn't going to marry someone without a college degree. Bytnar enrolled at Rolla and buckled down. "I had no idea what I wanted to major in but I liked taking car and lawn mower engines apart, so I chose mechanical engineering."
Bytnar lived off campus and worked as a dishwasher at his eating club in exchange for free meals. After graduation, he accepted an offer at Nooter, where he worked as a production engineer for a year until he lost his occupational deferment and subsequently joined the Marine Corps Reserves.
After serving six months of active duty, Bytnar returned to Nooter as a foreman in the machine shop and earned a master's degree in engineering management. He advanced to department head, superintendent, plant manager and vice president before becoming president in 2002.
"Nooter was the go-to fabricator for chemical companies around the world," says Bytnar. "We would have 40–50 projects going on at the same time with 700 welders and fitters working on them."
"When I was a student, I memorized facts and formulas to pass tests. Students today know their facts and formulas, but they also know how to find a solution to anything."
Under Bytnar's leadership, the company diversified.
"My greatest challenge was overseeing growth in a way that was sustainable," he says. "We saw the future of fabrication diminishing due to foreign competition, so acquisitions helped us diversify into plant construction, maintenance and repair."
Bytnar is a member of the S&T Board of Trustees and a past president of the Academy of Mechanical and Aerospace Engineers. The Bytnars were major donors to the renovation of Toomey Hall and the Kummer Student Design Center, where they supported the original buildout as well as the later expansion.
They have established three endowments: the Michael and Joyce Bytnar Professorship of Product Innovation and Creativity, the Michael W. Bytnar Endowed Scholarship for Mechanical and Aerospace Engineering, and the Paul T. Dowling Memorial Endowed Scholarship, which honors a 1940 S&T metallurgical engineering alumnus and longtime Nooter president.
Bytnar praises S&T graduates as "job ready" and credits experiential learning with shaping their skill and solution-orientation. "They know how to apply book knowledge," he says. "When I was a student, I memorized facts and formulas to pass tests. Students today know their facts and formulas, but they also know how to find a solution to anything."