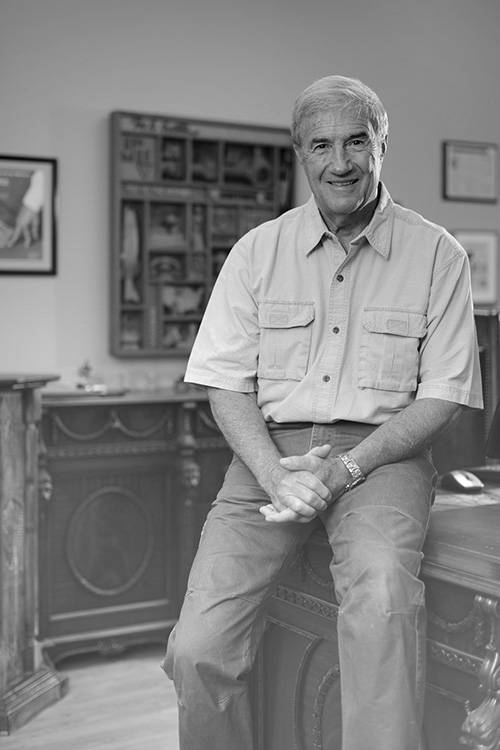 Fiber optic frontiersman
As the CEO of a major pipeline company, Roy Wilkens, EE'66, never expected to take an entrepreneurial risk midway through his career. But he had an idea that catapulted him from a corporate office suite to a basement startup operation with six employees.
He never regretted the move, and he went on to make headlines as the innovator who built a telecommunications network by stringing fiber optic cable through abandoned natural gas pipelines.
"I guess I had more of an entrepreneurial streak than I thought," says Wilkens, who was CEO of Williams Pipeline Co. in 1982 when the breakup of the Bell System monopoly opened the long distance communications market to competition.
"I saw the telecommunications industry exploding, and Williams Pipeline had a vast network of decommissioned oil and gas pipelines doing nothing," says Wilkens, who did what any self-respecting problem-solver does: He put two variables into an equation and found their commonality. In this case, the variables were pipelines and fiber optic cable.
In 1985 Wilkens launched WilTel as a business unit of The Williams Companies (then led by late Rolla alumnus Vernon Jones, CE'53). With an 11,000-mile fiber optic network, the company began providing long-distance service to customers as well as selling bandwidth to other carriers as a wholesaler.
"It was a time of enormous opportunity," says Wilkens. "Technology was moving extremely fast, and lots of people jumped into the industry. It was the wild, wild West for five to 10 years."
Although the telecommunications industry has circled back to dominance by a few carriers, another idea Wilkens championed revolutionized television broadcasting: video transmission via fiber optics rather than satellite. In 1990, a WilTel business unit, Vyvx, broke ground by using fiber optics to transmit video of Super Bowl XXIV from New Orleans to CBS. Today, Level 3 Vyvx continues to bring viewers some of the world's most watched television events.
"No matter what you study in school, you are never prepared. The only thing that prepares you is the ability to solve problems. I think that's the definition of an engineer – and the definition of a Rolla graduate."
In 1997, two years after LDDS Communications (later MCI WorldCom) acquired WilTel for $2 billion, Wilkens retired from the company. He went on to become CEO of network services for McLeodUSA, co-founded Adaption Technologies and served as a director on numerous boards in the telecommunications private and public sectors.
An S&T trustee emeritus and member of the Academy of Electrical and Computer Engineering, Wilkens endowed a professorship in telecommunications at S&T in 2004. He also has supported many other university endeavors, including the Kummer Student Design Center.
For the risk-taker who looked at miles of buried steel pipe and saw a digital empire, there is no training ground for leading the charge into the entrepreneurial unknown.
"No matter what you study in school, you are never prepared," Wilkens says. "The only thing that prepares you is the ability to solve problems. I think that's the definition of an engineer – and the definition of a Rolla graduate."