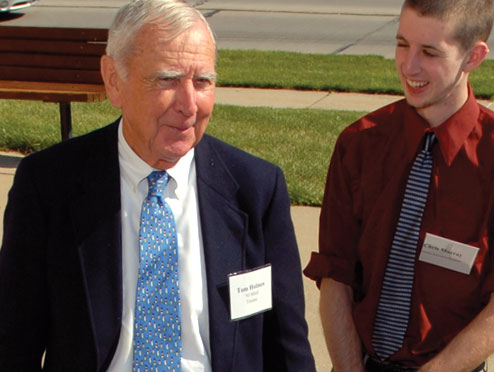 Thomas Holmes: hometown hero
Through the eyes of a 10-year-old boy, losing a parent can be devastating, but for Thomas Holmes, the death of his father during the Great Depression brought with it a passion for helping others.

Holmes remembers residents of his hometown, Wilmington, Mass., rallying their support of his family.

"I owe a lot to the town," says Holmes, MinE '50. "It's something I never forgot and I wanted to give something back."

That's why he and his wife set up a scholarship to allow future generations of students from his hometown an opportunity to study in the Midwest.

The Holmes Scholarship pays for a student's tuition as long as he or she remains in good standing at S&T. So far, about 25 students have embarked on the journey from Massachusetts to Missouri as Holmes Scholars; many of whom had never previously traveled west of the Mississippi River.

"The scholarship that you have funded has been one of the single most defining things in my life," wrote John Jason Gillis, ArchE '05, in a letter of thanks to Thomas and Joan. "I learned many things living away from home that I would not have had the chance to learn as a local student living at home."

Holmes' own journey began in 1942 when he enlisted in the U.S. Navy. He was later commissioned a Navy pilot (in the Pacific Theater) during World War II. Holmes knew he would return to college, but didn't know where until his high school principal, who was from Rolla, encouraged him to enroll at Missouri S&T.

Holmes retired in 1988 as chair, president and CEO of Ingersoll Rand Co., a global manufacturer of industrial machinery. Known for his skills at leading large corporations through difficult times, he also served as interim CEO for W. R. Grace & Co., later serving on its governing board. He also served on the board of directors for Newmont Mining Corp., Becton Dickinson and Co., Chesebrough-Pond's, the Norton Co. and the American Mining Congress.