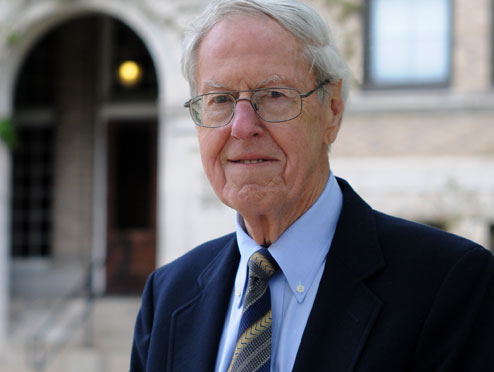 Robert Bay: setting standards
Bay works on research for Laclede Steel Co. at Washington University in St. Louis. His work was used in the construction of the World Trade Center.

Despite attaining the rank of major general, Robert Bay, CE'49, is reluctant to talk about his military career. Instead, Bay prefers to focus on his service as a civil engineer building navigation systems, skyscrapers, and water and wastewater treatment systems.

It all began in 1949, when Bay, a World War II veteran who earned his degree via the GI Bill, joined the St. Louis District Corps of Engineers. He was assigned to the new Chain of Rocks Canal and Lock project, which bypassed a series of rock ledges and shelves in the Mississippi to ensure safe river navigation. From there, he became assistant chief of operations for river traffic from Minneapolis to Cairo, Ill.

Bay moved from fluids to metals, joining Laclede Steel Co., where he helped develop a composite steel joist system that was used in the World Trade Center. He also focused his research on steel construction products and helped set tougher national standards.

From 1976 to 1994 as engineering manager for Black and Veatch, Bay was involved with major water and wastewater facilities in Denver, Los Angeles and Cairo, Egypt. In 1985, he was the national president of the American Society of Civil Engineers.

Bay's service to Missouri S&T is equally impressive. A past president of the Miner Alumni Association, Bay has served on the Order of the Golden Shillelagh executive committee, was the first member of the Academy of Civil Engineers and is a past president of the academy. He has received S&T's Chancellor Medal and the Distinguished Service Award from the University of Missouri System.

As for that military career: He started as an enlisted man and went to Officer Candidate School. He spent the end of World War II in the Philippines, where he helped build a training camp at the site where the Bataan Death March ended. After the war, Bay served in the U.S. Army for more than 39 years of active and reserve duty, ultimately attaining the rank of major general. Among his honors, Bay was awarded the Distinguished Service Medal. He is also a member of the Infantry OCS Hall of Fame.