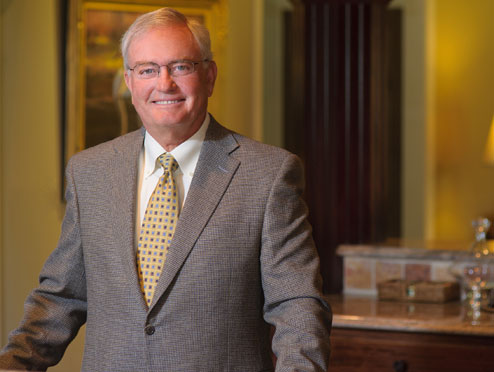 Jim Bertelsmeyer: Improving education
Whether he's helping a grade school in his hometown or improving facilities at S&T, Jim Bertelsmeyer, ChE'66, is passionate about supporting science and engineering education

That passion begins in his hometown of Tulsa, where Bertelsmeyer founded Heritage Propane Partners – a business he started from his kitchen table and built into the nation's third-largest propane company. Philanthropically, Bertelsmeyer supports science programs at his grandchildren's elementary school and also established the James E. Bertelsmeyer Planetarium to serve the greater Tulsa community. He has also created scholarships through his trade association, the National Propane Gas Association.

At S&T, many students credit him for introducing them to the Miner Alumni Association through the eight scholarships he established. In return for the scholarship, recipients volunteer in the alumni office for a few hours each week. Active in the alumni association for many years, Bertelsmeyer served as president from 2000 to 2002.

Bertelsmeyer's latest contribution to S&T may be his most significant. He recently pledged major support for construction of a new chemical and biological engineering building for S&T. The university plans to name the building Bertelsmeyer Hall in his honor.

"I look at this as an opportunity to help the chemical and biological engineering department maintain its reputation as one of the premier engineering programs on campus – and in the nation," he says.

His gift has inspired more than 50 other chemical engineering alumni to support the project.

In addition to his longtime involvement with the Miner Alumni Association, Bertelsmeyer is also a member of the Academy of Chemical Engineers, the Order of the Golden Shillelagh and the Missouri S&T Board of Trustees.