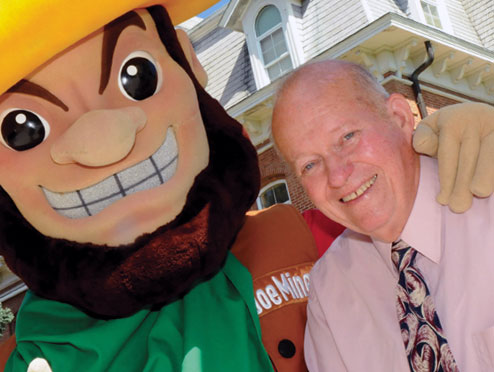 Jerry Bayless: Mr. Miner
Jerry Bayless, CE '59, MS CE '62, is an institution at this institution. He has been on the faculty since 1959. He served for many years as assistant to the chair of the civil engineering department and as an advisor to freshmen and transfer students. In 1986, he was promoted to assistant dean of engineering. In 1990, he became associate dean. He is currently an associate professor of civil, architectural and environmental engineering. He is also treasurer of the Miner Alumni Association.

In 2004, Bayless received the Chancellor Medal. He has also been a recipient of the Alumni Merit Award. A sports lover, Bayless enjoys rooting on the Miners every chance he gets.

S&T: What was the most challenging or difficult period of time for the university as a whole since you've been here?

Bayless: I believe the current time is the most difficult in my time on campus. We have had a lot of ups and downs with problems with state appropriations that were compounded by student enrollment dropping, but we could always see a way out if we could increase the number of students. Currently we are having severe financial problems with enrollment near record levels.

S&T: What has been the single greatest change on campus?

Bayless: The increase in the number of females on campus students, faculty and staff. It has changed the atmosphere dramatically.

S&T: What's the most memorable St. Pat's you've experienced? Why?

Bayless: That would be 2004 when I was Honorary St. Pat and the parade marshal.

S&T: What course has been your favorite to teach?

Bayless: I can narrow it down to three: Fluid Mechanics, Reinforced Concrete Design and Structural Analysis. Slide Rule would rank high also, but I haven't taught that in 35 years!

S&T: Do you have any idea/estimate of the total number of students you've taught or advised?

Bayless: Holy smoke! A wild guess 10,000.