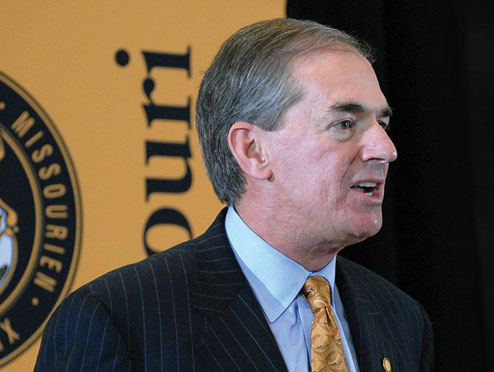 Gary Forsee: down to business
When Gary Forsee, CE'72, became president of the four-campus University of Missouri System in 2008, the national and state economy was about to go from bad to worse. But the former telecommunications executive who had served with Sprint Nextel, Global One, AT&T and Southwestern Bell knew how to deal with difficult situations. Forsee attacked problems with the calm and composure of an engineer who knows that concentrating on quality and collaborating to find the best ideas and practices is a good path forward.

Under his leadership, the university renewed its focus on making college affordable for students, driving economic development and reducing ongoing costs. Despite the difficult recession, the university was able to hold tuition flat for two years, invest in university research and support university-related start-up companies. Forsee also led the university to support investment and legislation to increase the state's science, technology, engineering and math (STEM) focus.

The first Rolla graduate to lead the system, Forsee had a deep understanding and appreciation for Missouri S&T's focus on engineering and science. The S&T alumni knew that he was going to be a strong advocate for our technological research university.

"The businessman became a teacher," says Steve Owens, interim president of the system, "and he taught us all something about leadership and decision-making."